CAG and India's MGSIPA Conduct Workshops on Leadership, Purpose and Motivation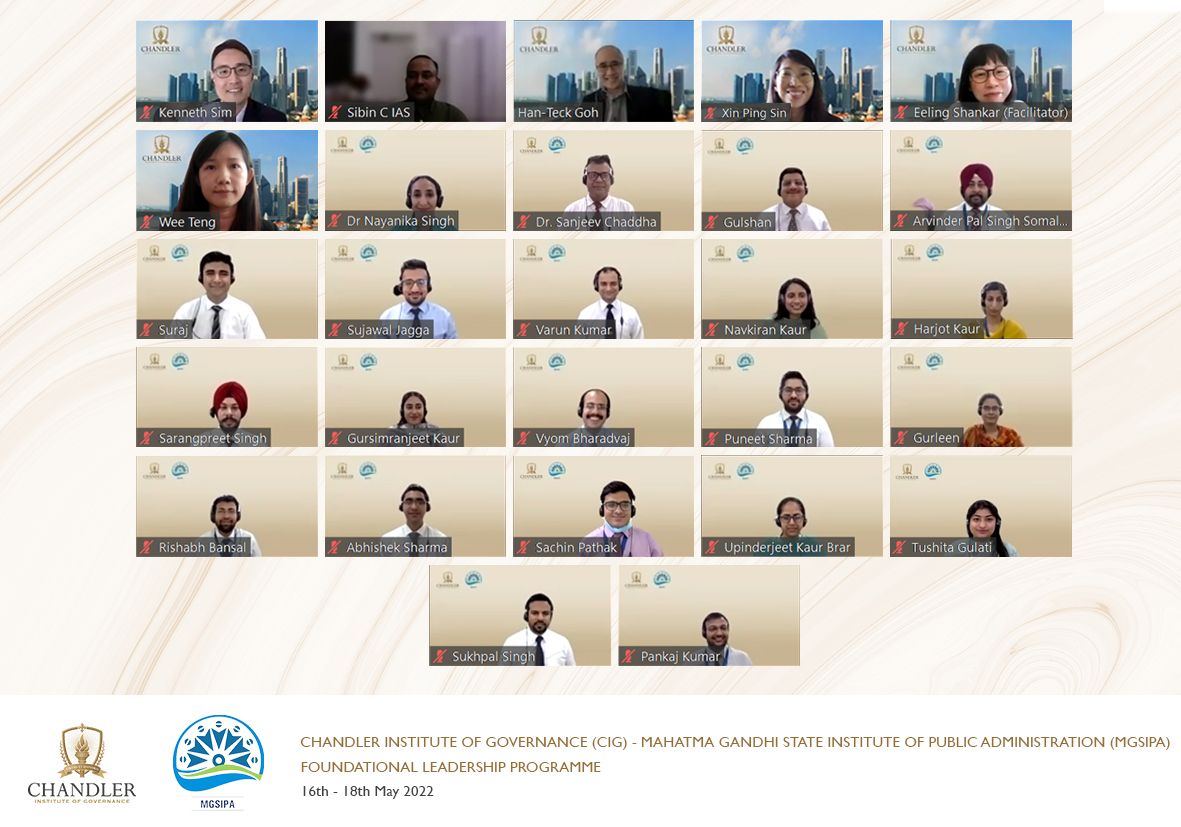 PUNJAB (INDIA), 18 May 2022 — The Chandler Academy of Governance (CAG) collaborated with the Mahatma Gandhi State Institute of Public Administration (MGSIPA) in Punjab, India to design and deliver the second run of the Foundational Leadership Programme for Provincial Civil Service (PCS) officers from 16 to 18 May 2022.

The three-day programme brought together 18 newly inducted PCS officers from all over Punjab. The participants had the opportunity to expand their view of leadership, develop their leadership skills and learn how to implement tools that would support them to become more effective leaders. Through lectures and small group learning sessions, the programme helped the PCS officers to better understand their leadership context and leadership style, better navigate leadership transitions and manage their teams in an effective and efficient manner.

The programme was jointly facilitated by leadership development experts Mr Goh Han Teck and Ms Ng Ee Ling, together with MGSIPA faculty members, Dr Sanjeev Chaddha and Dr Nayanika Singh.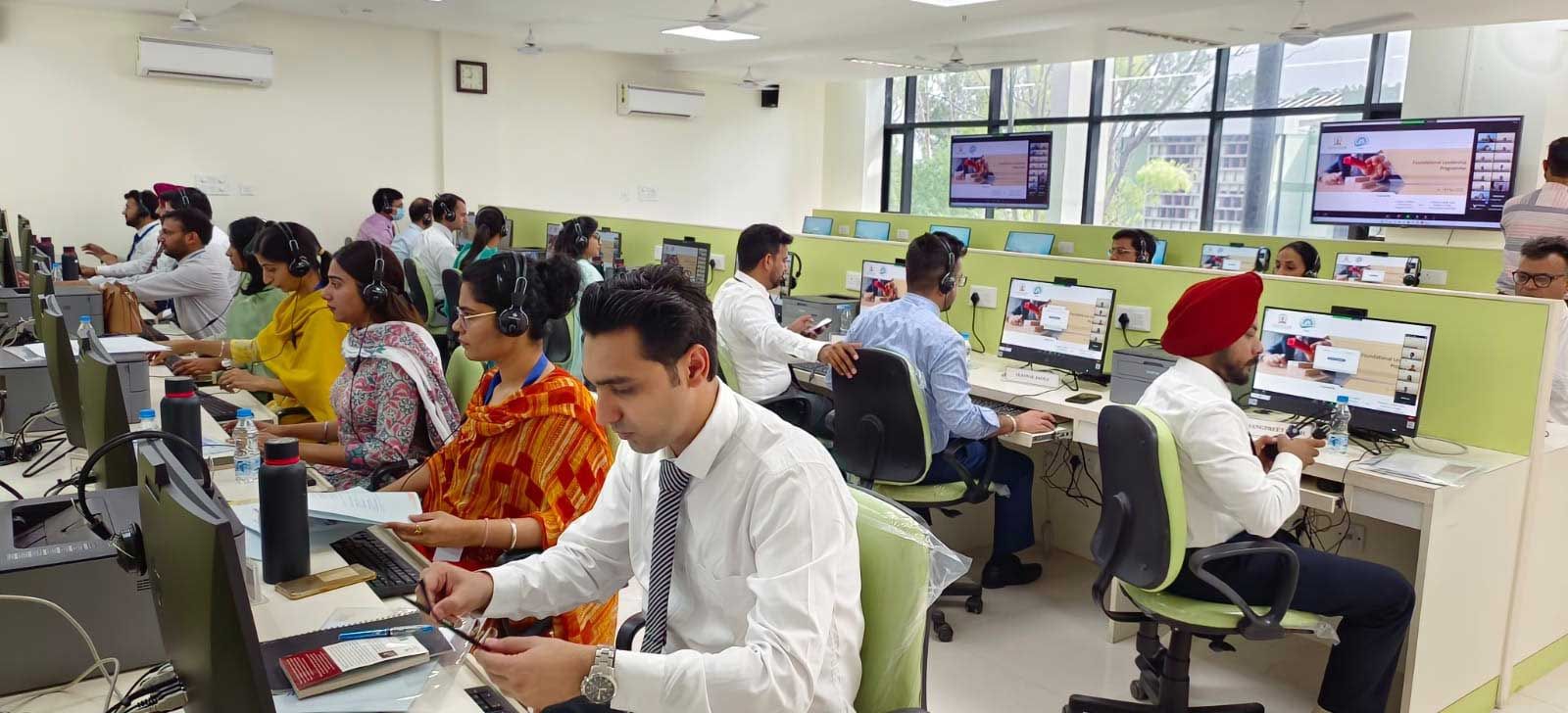 Participants attending the programme online at MGSIPA
Delivering his opening address, Mr Sibin C, IAS, Director of MGSIPA emphasised the importance of the role of a leader.
"Leadership plays a big role in administration. The role of a leader is to inspire the team members to achieve goals and targets. This training on leadership plays a very important role in developing transformational leaders. I hope this training will cater to and help the young administrators in carrying out their future role effectively."
Mr Sibin C
Director, Mahatma Gandhi State Institute of Public Administration
Echoing what Mr Sibin said, Mr Kenneth Sim, Dean of CAG and Executive Director of the Chandler Institute of Governance (CIG) added:
"Good leadership is central to building a strong public service. I hope that participants will have an inquiring mind and participate actively during the 3-day programme that we have curated for you. This programme will bring together local and international perspectives in leadership, with co-facilitation by CAG trainers Han Teck and Ee Ling, and MGSIPA faculty Dr Chaddha and Dr Nayanika."
Mr Kenneth Sim
Dean of the Chandler Academy of Governance, and
Deputy Executive Director, Chandler Institute of Governance
The participants also got to interact with Ms Jaspreet Talwar, Principal Secretary of Higher Education and Investment Promotion and Languages, and Director General of MGSIPA and benefitted from the sharing of her leadership experiences during the senior leadership dialogue session.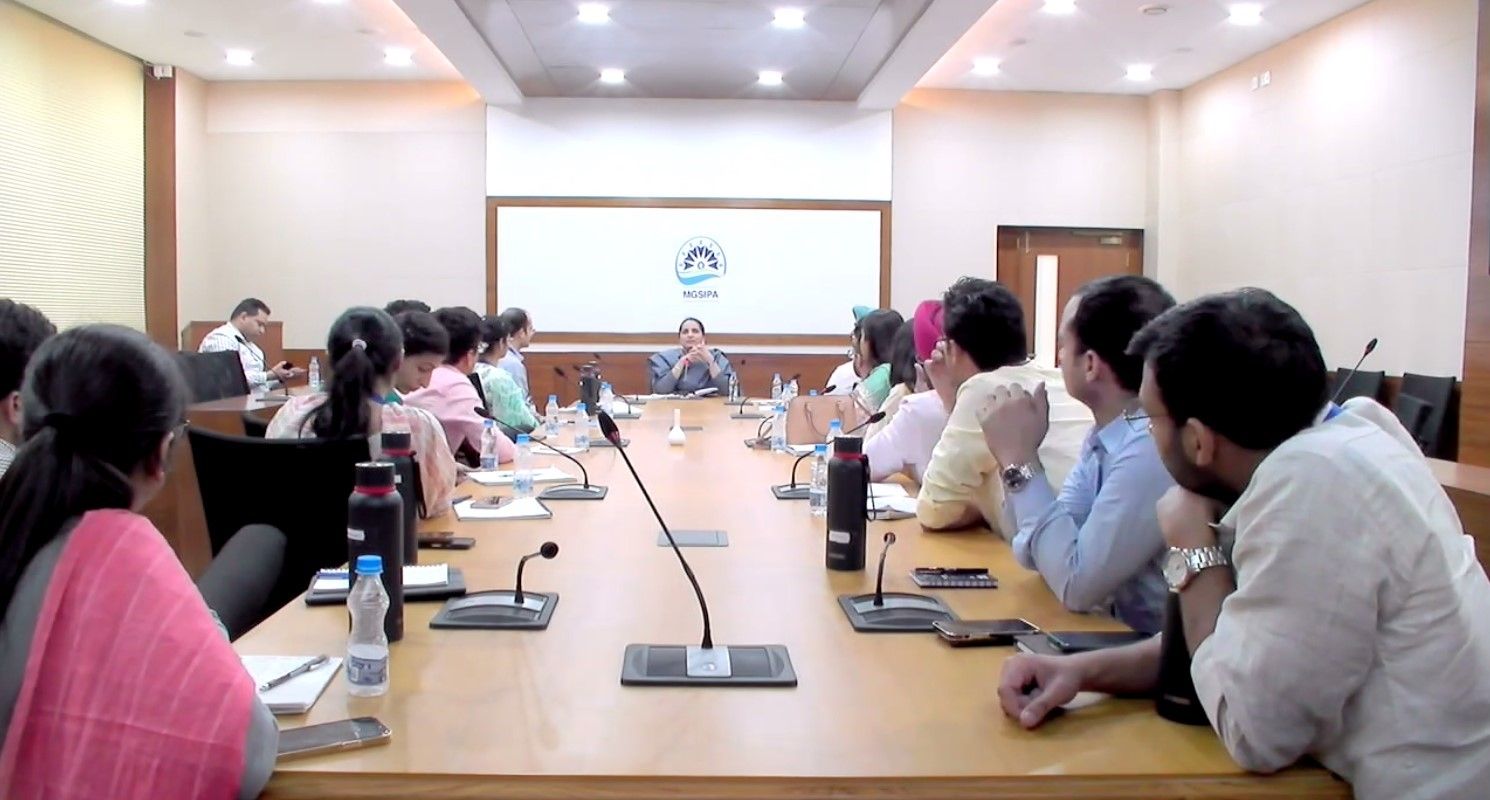 Ms Talwar sharing her insights on public service leadership
Prior to this collaboration, CAG had also delivered a module on Purpose and Motivation in the Public Sector on 26 and 27 April 2022 to this same group of PCS officers.
The module was facilitated by Mr Sharath Jeevan, CAG Fellow and leading expert in intrinsic motivation. Through a mixture of discussions and lectures, the participants were introduced to the core elements of intrinsic motivation and how to apply them at work. A panel discussion with current Indian civil servants also provided participants with techniques, skills and tools to navigate bureaucratic hurdles and challenges in their work.
Empty space, drag to resize
About the Chandler Institute of Governance (CIG)
The Chandler Institute of Governance (CIG) is an international non-profit organisation, headquartered in Singapore. We believe in a world where citizens have a deep sense of trust in their governments and public institutions, and where nations are governed by principled, wise leaders supported by an effective civil service. Trust and effective governance serve as a strong foundation for national development and prosperity. CIG supports governments in building government talent, leadership and public service capabilities through training programmes, knowledge products and advisory work. We are not affiliated with any national government or political party, and we do not represent any partisan or commercial interests.
For more news and information, visit
https://www.chandlerinstitute.org/
or follow CIG on
Facebook
,
Twitter
and
LinkedIn
@ChandlerINST
About the Chandler Academy of Governance, (CAG)
The Chandler Academy of Governance (CAG) is part of CIG. CAG complements and supports CIG's work by designing and delivering training programmes that are practitioner-oriented, to equip government leaders with capabilities required to meet the realities and demands of public service work. CAG works with its panel of adjunct trainers and subject matter experts in the design and delivery of these programmes.
About the Mahatma Gandhi State Institute of Public Administration
Mahatma Gandhi State Institute of Public Administration (MGSIPA) undertakes research, consultancy, training and allied activities to improve management efficiency in the various areas of public administration in Punjab, India.
Empty space, drag to resize
For media clarifications, please contact:
Dominic GABRIEL (Mr)
Communications Manager
Chandler Institute of Governance

ONG Wee Teng (Ms)
Manager, Programmes
Chandler Institute of Governance