CIG and RMI Sign MOU in Rwanda to Establish Partnership in Capability Development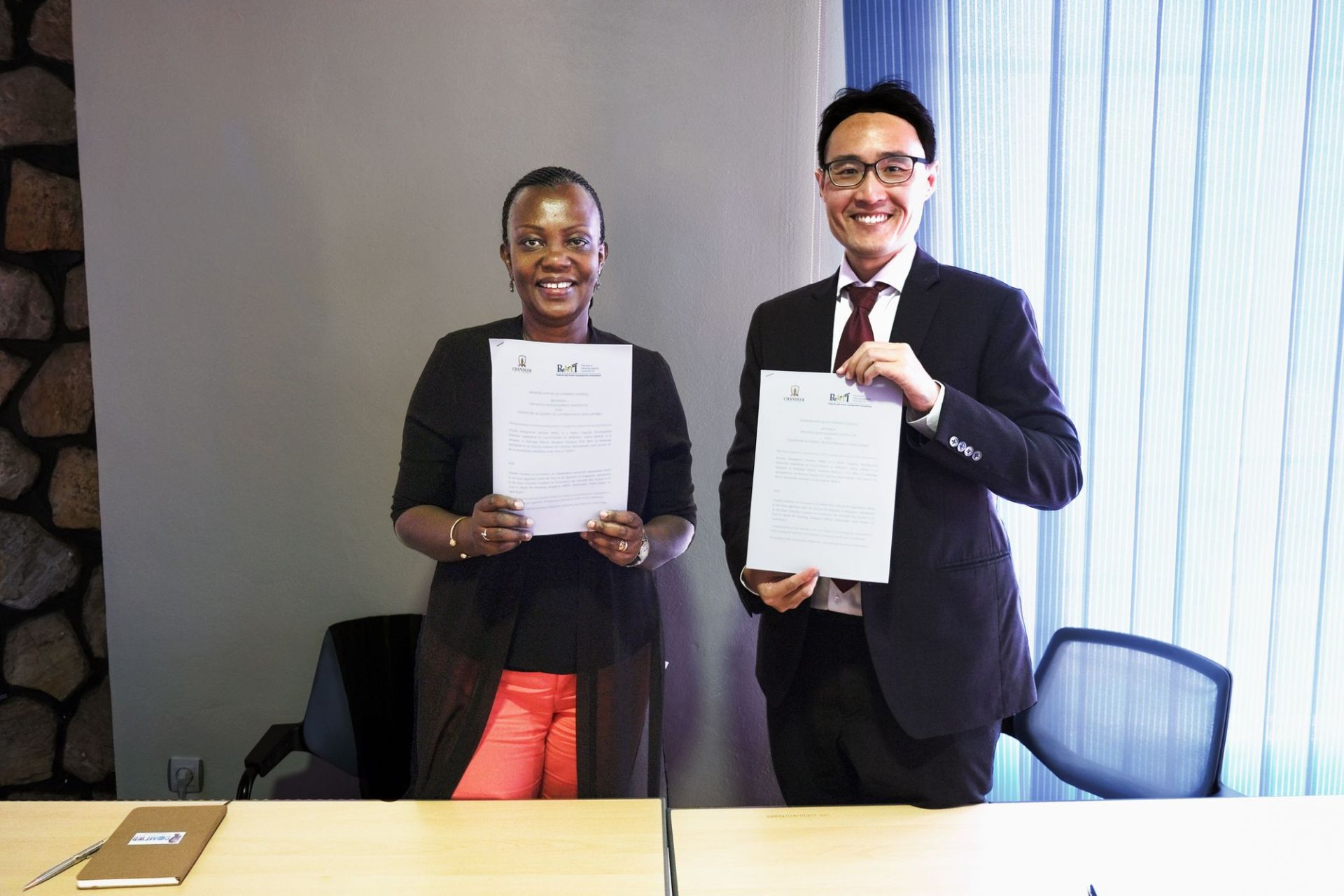 MUHANGA (RWANDA), 18 July 2022 — The Chandler Institute of Governance (CIG) and the Rwanda Management Institute (RMI) entered into a Memorandum of Understanding (MOU) on 8 July 2022, thus establishing a partnership between two organisations that share a similar mandate to support public sector capability development to strengthen national governance.

Through this MOU, both organisations commit to collaborate in training design and delivery as well as knowledge creation and research in areas relevant to public sector governance.
The signing ceremony was held in person at the RMI Murambi Campus located at Muhanga District, Southern Province. The MOU was signed by Dr Charline Mulindahabi, Director General of RMI and Mr Kenneth Sim, Dean, Chandler Academy of Governance (CAG).
"We are excited to be here to sign this MOU and we recognise what it represents for the future partnership between CIG and RMI. The MOU is a commitment to a close collaboration to support the development of the public service. We appreciate the strong relationship between the two countries and look forward to working closely together to concretise our collaboration."
Dr Charline Mulindahabi

Director General, Rwanda Management Institute (RMI)
Mr Kenneth Sim, Dean of CAG, also expressed gratitude for the partnership between both organisations:
"We are honoured to establish this partnership with RMI and look forward to deepening and expanding collaboration in public sector capability development in the years to come. We hope to bring in an international perspective to curriculum design and development, thereby complementing RMI's deep understanding of the Rwandan context."
Mr Kenneth Sim
Dean, Chandler Academy of Governance (CAG)
Deputy Executive Director, Chandler Institute of Governance (CIG)
Empty space, drag to resize
About Rwanda Management Institute (RMI)
Established by Law N° 52/2013 of 28/06/2013 after amendments of former structural and institutional arrangements that date back from 1963, Rwanda Management Institute was created to respond to the challenges resulting from existing capacity gaps at the workplace.
RMI is mandated to ensure training in Administration and Management disciplines for public service, private sector and civil society organizations personnel. Broadly, RMI offers Leadership and Management Development training as well as Advisory Services, and Research and Consultancy. For more news and information, visit
https://www.rmi.rw/
About the Chandler Institute of Governance (CIG)
The Chandler Institute of Governance (CIG) is an international non-profit organisation, headquartered in Singapore. We believe in a world where citizens have a deep sense of trust in their governments and public institutions, and where nations are governed by principled, wise leaders supported by an effective civil service. Trust and effective governance serve as a strong foundation for national development and prosperity. CIG supports governments in building government talent, leadership and public service capabilities through training programmes, knowledge products and advisory work. We are not affiliated with any national government or political party, and we do not represent any partisan or commercial interests.
For more news and information, visit
https://www.chandlerinstitute.org/
or follow CIG on
Facebook
,
Twitter
and
LinkedIn
@ChandlerINST
Empty space, drag to resize
For media clarifications, please contact:
Dominic GABRIEL (Mr)
Communications Manager
Chandler Institute of Governance

Xin Ping SIN (Ms)
Head, Programmes
Chandler Academy of Governance

Busingye Jeanne d'Arc
Knowledge & Information Management Officer
Rwanda Management Institute (RMI)