CIG and Zambia's NHIMA Conduct Workshop on Performance Management and Leadership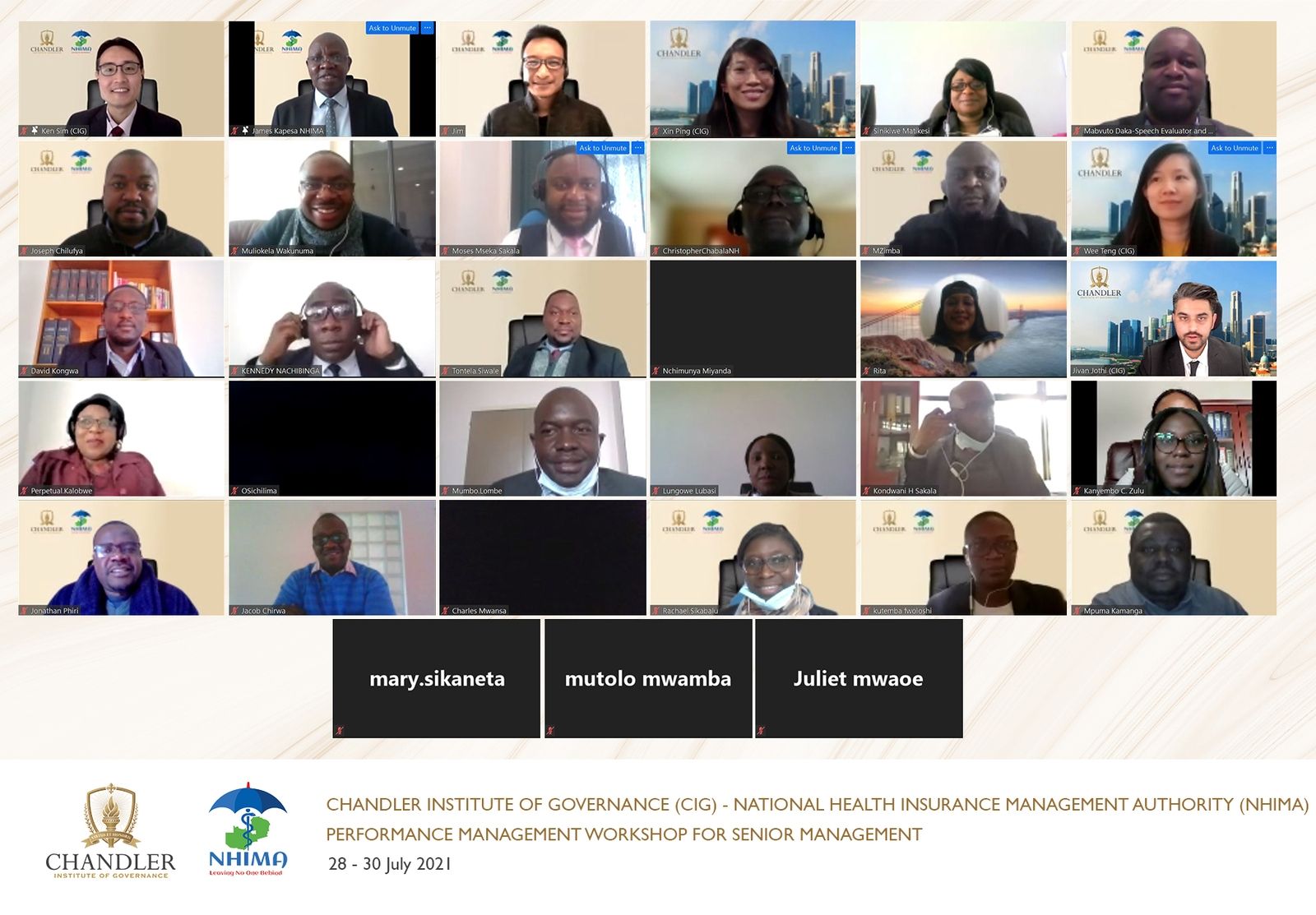 ‍LUSAKA (ZAMBIA), AUGUST 2021 — The Chandler Institute of Governance (CIG) has collaborated with Zambia's National Health Insurance Management Authority (NHIMA) to design and deliver a set of Performance Management and Leadership Workshops for Senior Leaders and Managers between 28 July 2021 and 6 August 2021. The workshops, held virtually, were designed to help NHIMA officers enhance their Performance Management capabilities by understanding different leadership styles, practical skills in leading and managing teams, as well as giving and receiving feedback.

Over 40 officers from NHIMA attended the workshops, which were held over five days. These officers are from different departments in NHIMA and hold varying designations. The workshops were conducted through a mix of facilitated group activities, peer discussions within small groups and expert-led sharing on leadership frameworks. Through this, participants were able to understand the theories but also reflect and share how these apply to their own contexts.

The workshops were helmed by CIG's resource expert, Mr Yeo Whee Jim. Mr Yeo was formerly a Director in the Singapore Public Service and has extensive experience in leadership development and conflict mitigation in organisations.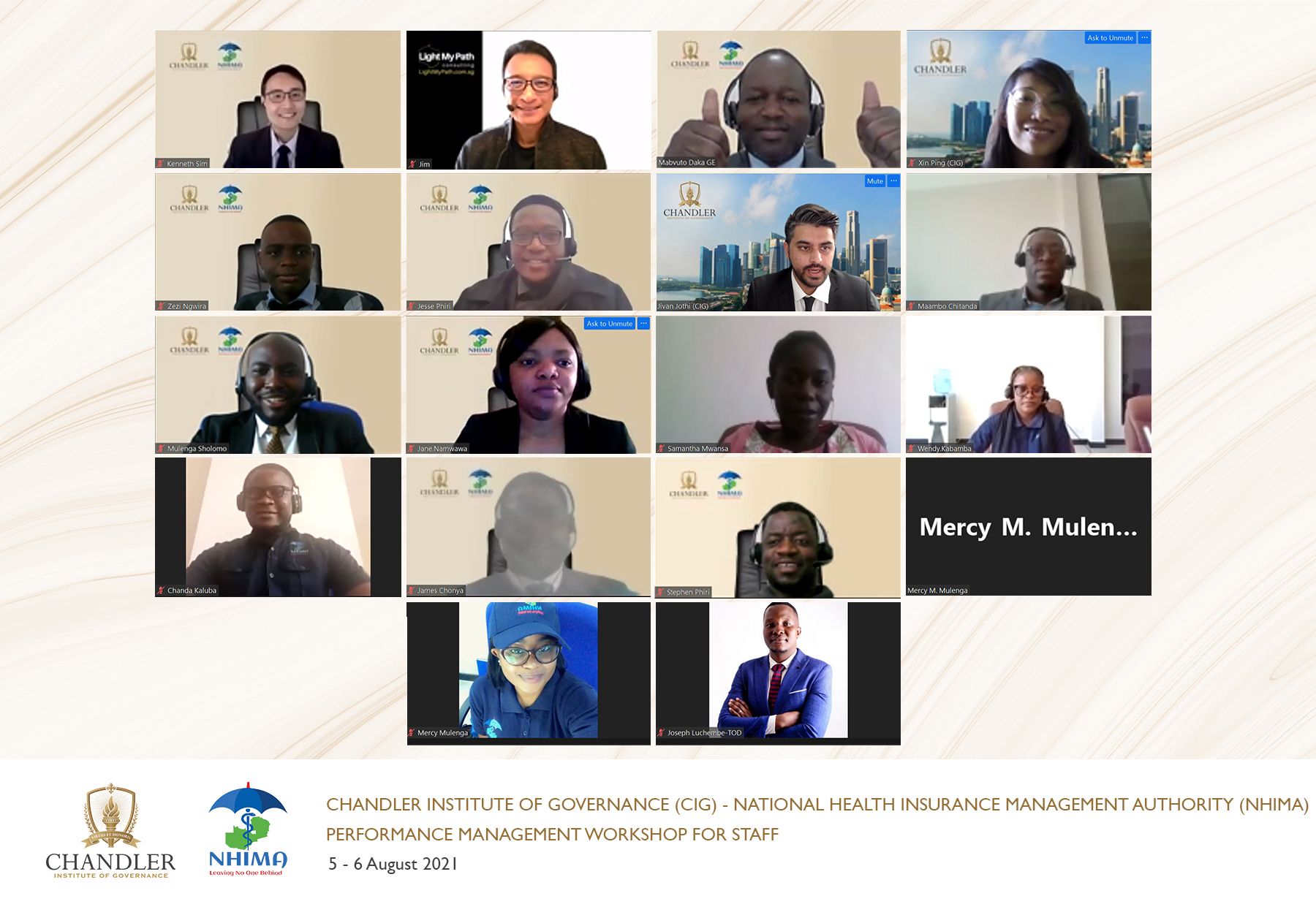 Addressing the programme participants from NHIMA during the opening ceremony, Mr James Kapesa, Director General, NHIMA, said:
"CIG has been an all-weather partner of NHIMA having supported us during the crafting of the inaugural NHIMA Strategic Plan 2021-2025. Embedded in the Strategic Plan is a commitment under Strategic Pillar No.4 to strengthen institutional capacity through improvement of staff performance and motivation. We are pleased and excited that CIG has, once more, partnered with us in implementing one of our Strategic Theme. At NHIMA, performance, leadership and mentorship are our hallmarks because everything rises and falls on Leadership. This investment in our staff is destined to yield considerable dividends in the near and long term."
Mr James Kapesa
Director General of National Health Insurance Management Authority
Mr Kenneth Sim, Deputy Executive Director, CIG added:
"It has been our privilege and pleasure to build on past collaborations, to support NHIMA as it continues to build a strong performance ethos and shared leadership mindset across all levels of the organisation. This will provide a strong foundation for NHIMA at this early and critical stage in its developmental journey."
Mr Kenneth Sim
Deputy Executive Director, Chandler Institute of Governance (CIG)
Empty space, drag to resize
About the Chandler Institute of Governance (CIG)
The Chandler Institute of Governance (CIG) is an international non-profit organisation, headquartered in Singapore. We believe in a world where citizens have a deep sense of trust in their governments and public institutions, and where nations are governed by principled, wise leaders supported by an effective civil service. Trust and effective governance serve as a strong foundation for national development and prosperity. CIG supports governments in building government talent, leadership and public service capabilities through training programmes, knowledge products and advisory work. We are not affiliated with any national government or political party, and we do not represent any partisan or commercial interests.
For more news and information, visit
https://www.chandlerinstitute.org/
or follow CIG on
Facebook
,
Twitter
and
LinkedIn
@ChandlerINST
About the National Health Insurance Management Authority (NHIMA)
The National Health Insurance Management Authority (NHIMA) is a corporate body established by the National Health Insurance Act No 2. of 2018 supported by Statutory Instrument No.63 of 2019. NHIMA has since implemented the National Health Insurance Scheme (NHIS) to facilitate access to quality insured health services for all Zambian Citizens and Established Residents. NHIMA is mandated to manage and administer the NHIS members' pooled funds for purposes of providing equitable access to essential healthcare based on the principles of solidarity, equity and cross subsidisation of financial and health risks. The NHIS is a sound and innovative healthcare financing mechanism created to supplement Zambia's household and National expenditure on health to achieve Universal Health Coverage.
Empty space, drag to resize
For media clarifications, please contact:
Dominic GABRIEL (Mr)
Communications Manager
Chandler Institute of Governance

Xin Ping SIN (Ms)
Head, Programmes
Chandler Academy of Governance

Mabvuto DAKA (Mr)
Director, Human Resource & Administration
National Health Insurance Management Authority
Email:
mdaka@nhima.co.zm