CIG and Punjab's (India) PSIEC Collaborate to Enhance Industrial Park Planning and Management

PUNJAB (INDIA), 3 FEBRUARY 2021 — The Chandler Institute of Governance (CIG) is collaborating with the Punjab Small Industries and Export Corporation (PSIEC) in India to design and deliver the Planning, Developing, and Managing Successful Industrial Parks Programme from 2 February to 3 March 2021. The virtual programme supports the enhancement of industrial park planning, development, management strategies, and improves the ease of doing business and job creation in the State of Punjab.

Over forty officers from PSIEC's head office and district offices will be attending the programme held over eight sessions. These officers are responsible for industrial park planning, engineering, and estate services. The training programme is designed to equip the officers with the skills and competencies required for key parts of the development cycle of industrial parks, including visioning, feasibility, and planning; estate management; marketing and investment promotion; and inter-agency coordination.

The programme is helmed by CIG's resource expert, Mr Lim Chin Chong. Mr Lim was formerly from JTC Corporation in Singapore, and has extensive experience in physical infrastructure, land planning and industrial estate development.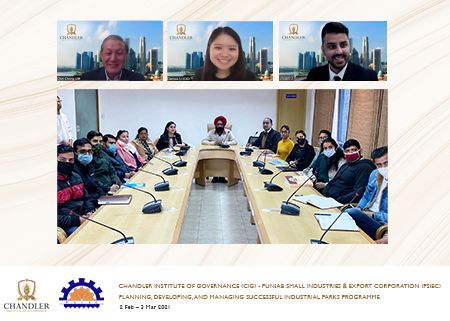 PSIEC and CIG during the session on the development cycle of industrial parks.
Addressing the programme participants from PSIEC during the opening ceremony, Mr S.P. Singh, Executive Director, PSIEC, said:
"I hope these sessions would impart successful training and help to boost the sustainable growth of PSIEC."
Mr S.P. Singh
Executive Director of Punjab Small Industries and Export Corporation
Mr Wu Wei Neng, Executive Director, CIG, emphasised the importance of PSIEC's role in Punjab's development. He added:
"The development of industrial parks is a core part of economic development strategy for Punjab and PSIEC plays a major role in this regard. We are committed to supporting the Government of Punjab in this important work."
Mr Wu Wei Neng
Executive Director, Chandler Institute of Governance
Empty space, drag to resize
About the Chandler Institute of Governance (CIG)
The Chandler Institute of Governance (CIG) is an international non-profit organisation, headquartered in Singapore. We believe in a world where citizens have a deep sense of trust in their governments and public institutions, and where nations are governed by principled, wise leaders supported by an effective civil service. Trust and effective governance serve as a strong foundation for national development and prosperity. CIG supports governments in building government talent, leadership and public service capabilities through training programmes, research initiatives and advisory work. We are not affiliated with any national government or political party, and we do not represent any partisan or commercial interests. For more news and information, visit
https://www.chandlerinstitute.org/
or follow CIG on
Facebook
,
Twitter
and
LinkedIn
@ChandlerINST
About the Punjab Small Industries & Export Corporation Limited (PSIEC)
PSIEC Ltd. has been acting as a catalyst and springboard for all round development and promotion of industries in Punjab through the development of industrial infrastructure, namely Industrial Focal Points (IFP) ranging between 50 acres to 500 acres of land at various towns and cities of Punjab. Therefore to facilitate the spirit of industry, PSIEC Ltd. provides self-sufficient industrial focal points. These industrial hubs, consist of developed plots equipped with power substations & distribution networks, telecommunication facilities, residential area for workers, common effluent treatment plants and parts for the clean environment.
For more news and information, visit
https://psiec.punjab.gov.in.
Empty space, drag to resize
For media clarifications, please contact:
Dominic GABRIEL (Mr)
Communications Manager
Chandler Institute of Governance