CAG and Vietnam Government Conclude 5-month Training Programme and Look to Expand Partnership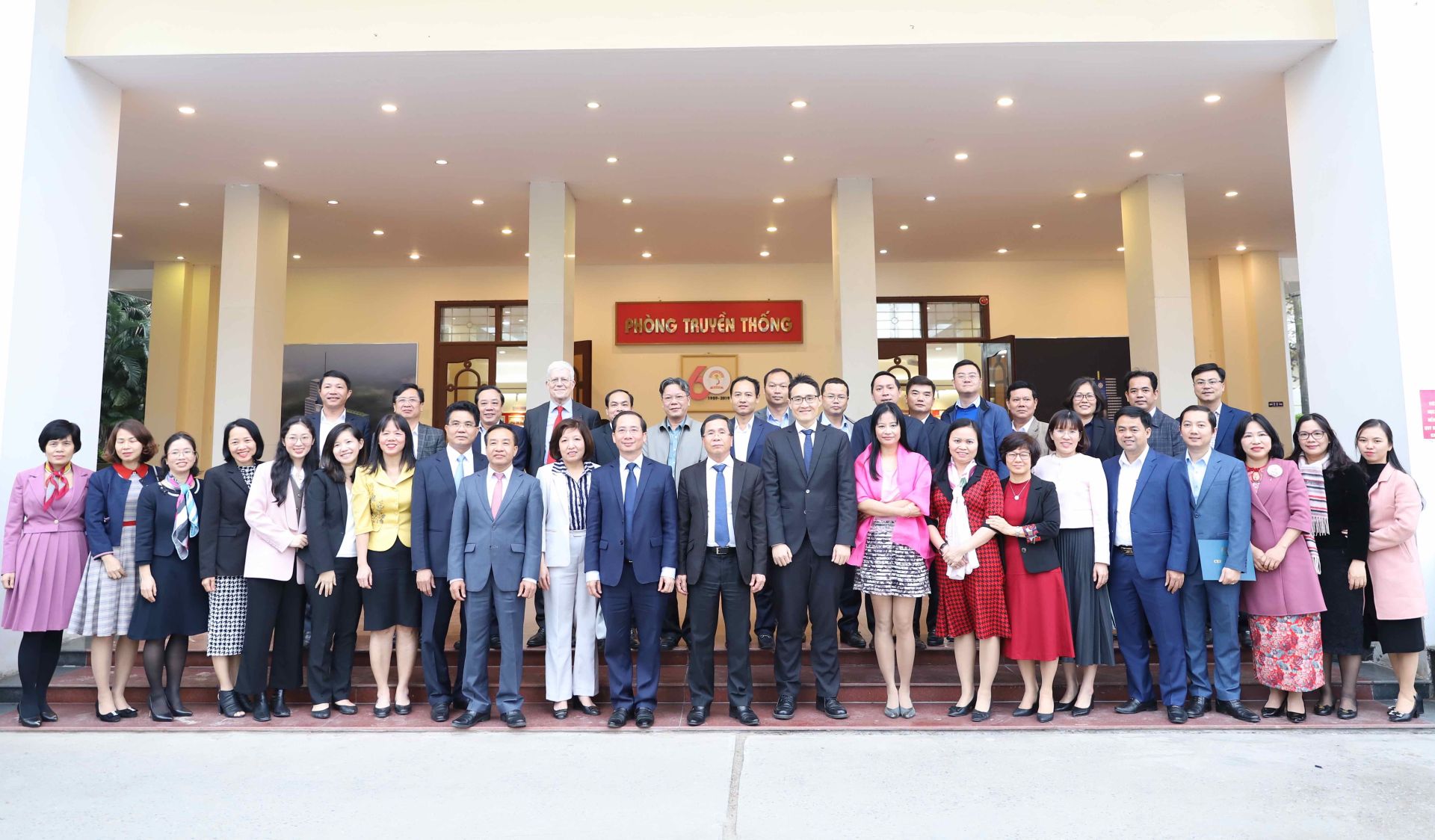 Closing ceremony of the Modern and Effective National Governance Programme for Emerging Leaders (MENGPEL) graced by the Vietnam Vice Minister of Home Affairs, Dr Trieu Van Cuong
HANOI (VIETNAM), 24 February 2023 — 29 senior Vietnamese public sector leaders successfully completed the fourth and final segment of the Modern and Effective National Governance Programme for Emerging Leaders (MENGPEL). A collaboration between the Chandler Academy of Governance (CAG) and the National Academy of Public Administration (NAPA) of Vietnam, MENGPEL was designed to strengthen public sector capabilities, which is essential towards building strong nations. Vice Minister for Home Affairs, Dr Trieu Van Cuong, was present at the closing ceremony.

Speaking at the closing ceremony, Vice Minister Trieu emphasised that good national governance is a decisive factor for the success of a country. In this regard, he underscored the importance of building capabilibities for political cadres and public servants. He also expressed appreciation to CIG for the success of MENGPEL, and hoped that this would pave the way for the next run of the programme and for further cooperation activities between MOHA, CIG and NAPA.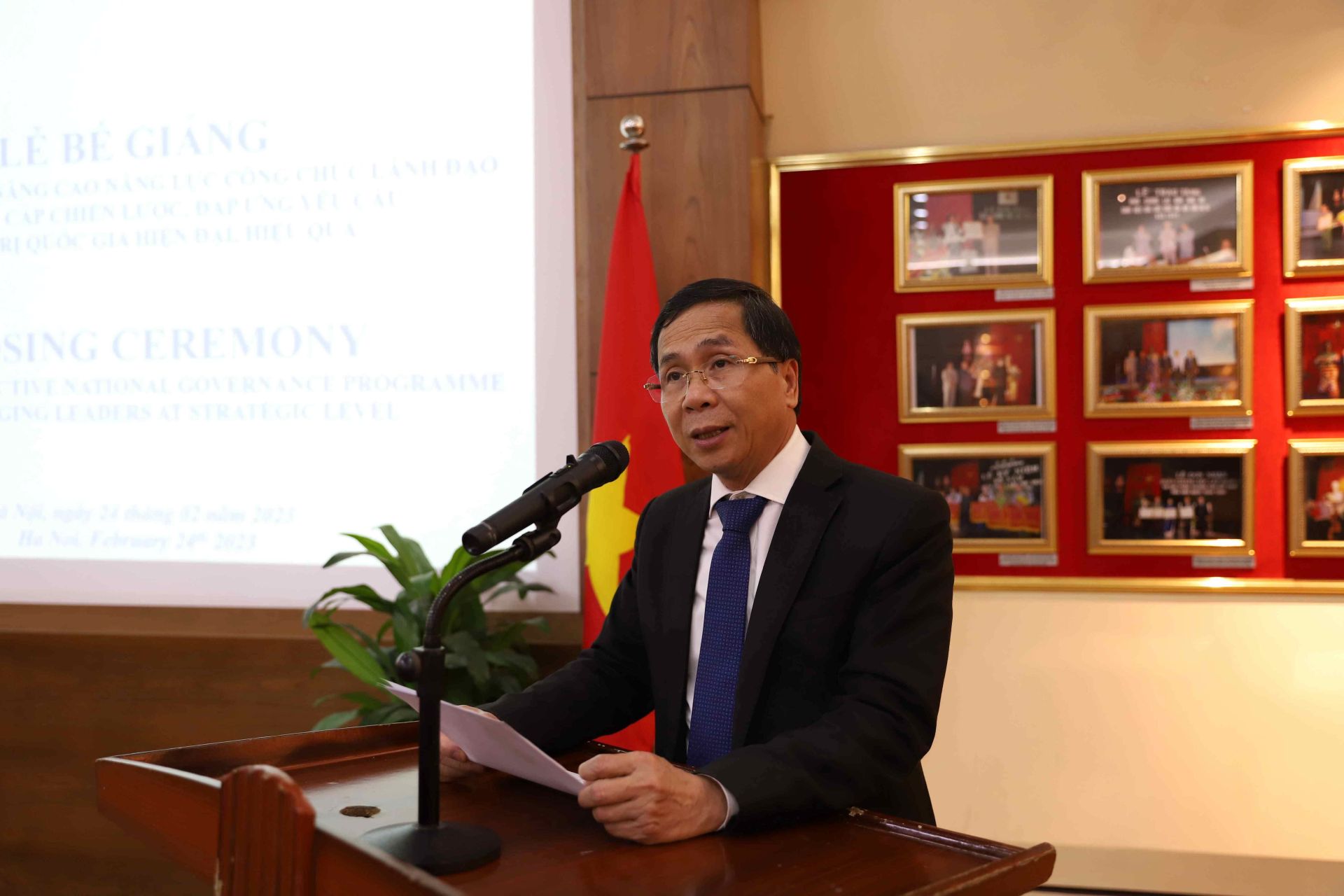 Dr Trieu Van Cuong, Vice Minister, Ministry of Home Affairs (Vietnam), delivering the closing remarks
Mr Kenneth Sim, Dean, CAG expressed his gratitude to the partners at NAPA and MOHA for entrusting CIG to run this inaugural important leadership programme. He emphasised that in designing the curriculum, CAG had worked closely with NAPA to ensure that the programme was contextualised to Vietnam's needs, while drawing upon international good practices. At the same time, the curriculum also had a strong practitioner orientation, which is an important hallmark of CAG's programmes. The feedback from the programme has been positive and some participants have started applying the knowledge and skills acquired during the programme in their work.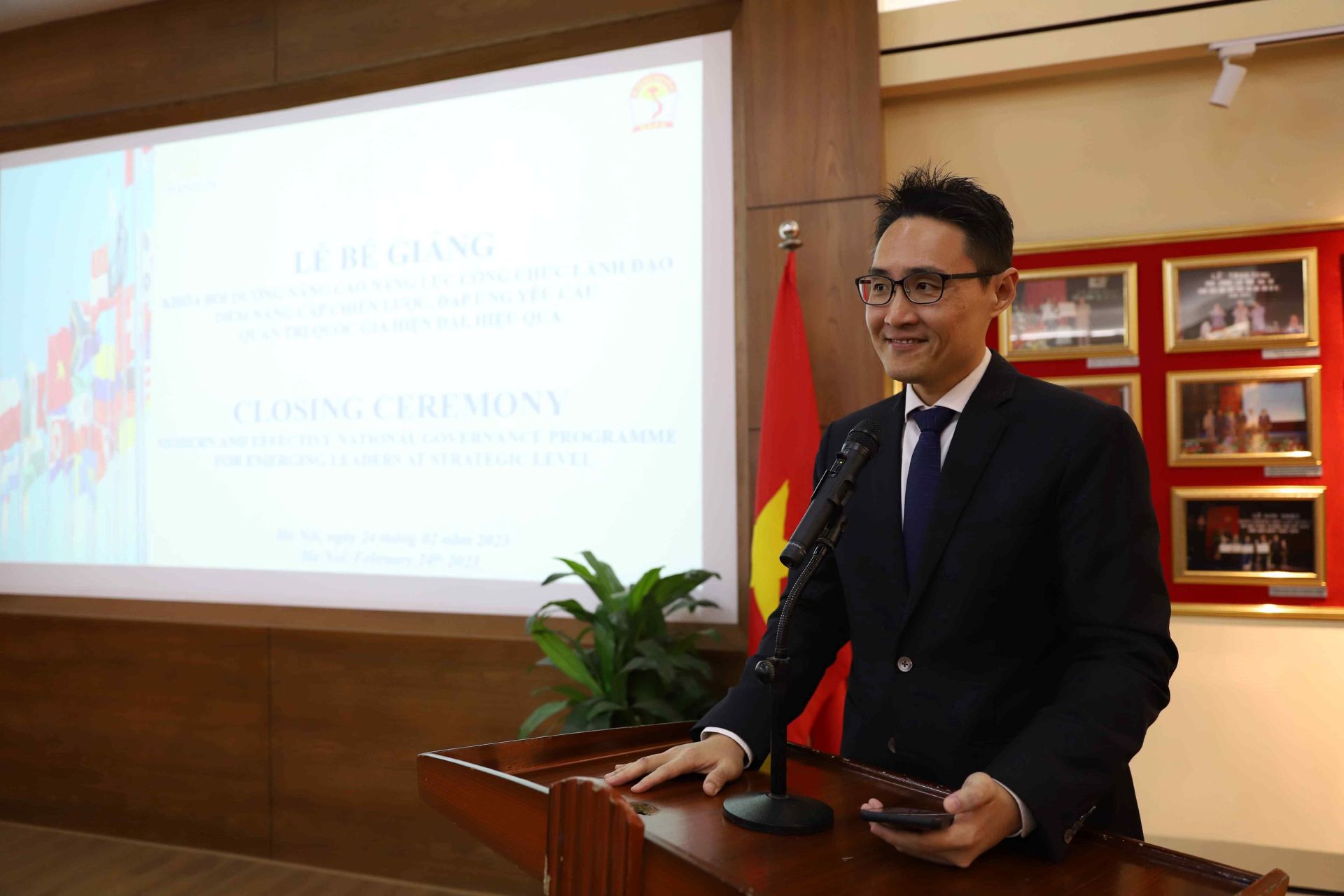 Mr Kenneth Sim, Dean of CAG expressing his gratitude to NAPA and MOHA
Likewise, in his closing remarks, Dr Nguyen Ba Chien, President of NAPA emphasised that good governance is key to national success. Echoing Mr Sim, Dr Chien said that MENGPEL was designed to be practical, incorporating international good practices that were applicable to the Vietnamese context. He added that MENGPEL is aligned with the broader Vietnamese government's directive of capability development for emerging public leaders and managers. He noted, in particular, that the programme has enhanced the effectiveness of the participants in their work, and contributed to building a professional, responsible, dynamic and talented civil service.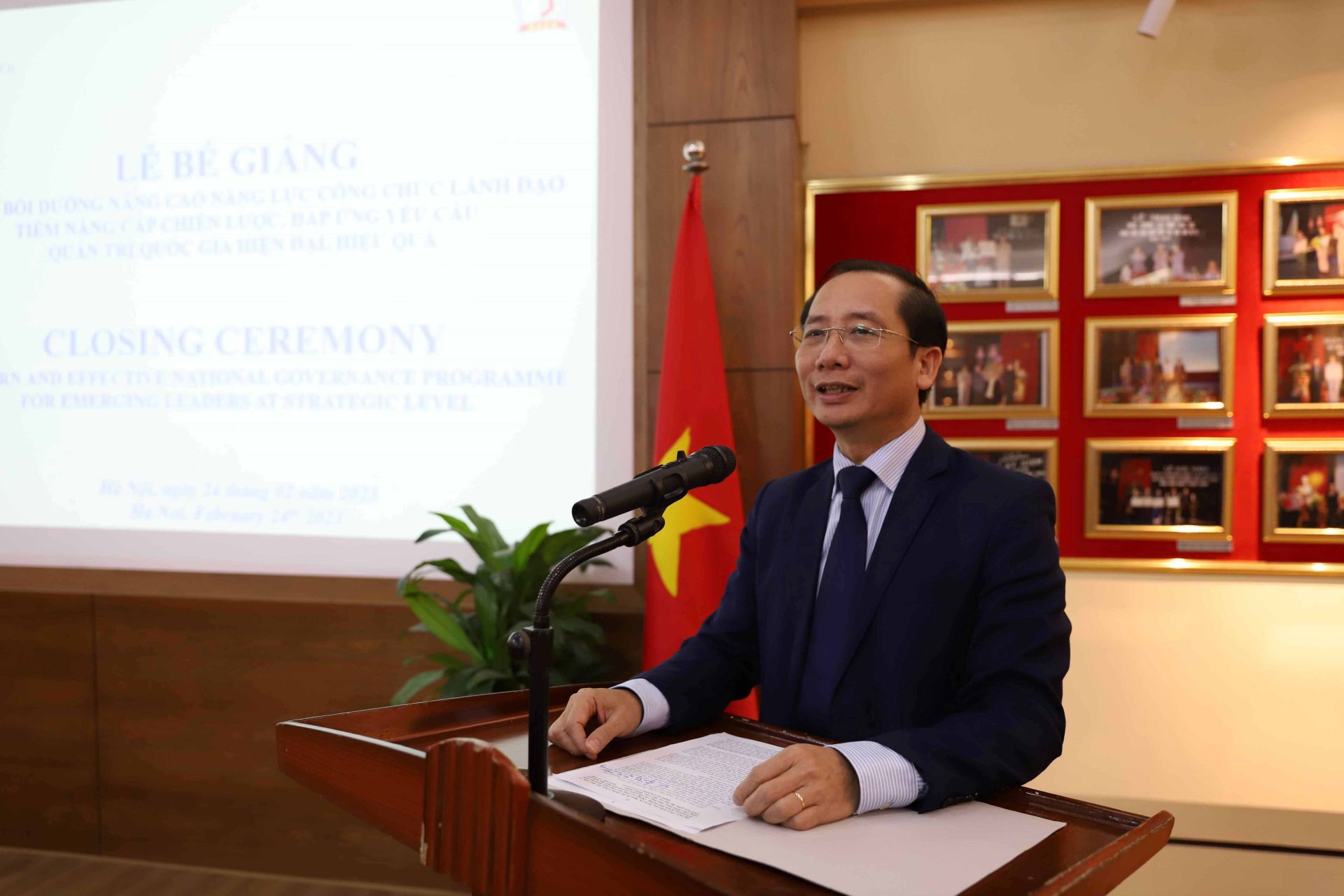 Dr Nguyen Ba Chien, President of NAPA giving his closing speech
Speaking on behalf of the class, Mr Le Quang Hoa, Director General of Hung Yen Department of Home Affairs shared that the participants have found practical ways to apply the skills and knowledge acquired in their daily work. The participants were thankful for the opportunity to learn from senior national and international experts, as well as from each other. In addition, the programme has also been a useful platform for participants to build personal relationships, which is critical for collaboration and cooperation across departments and even provinces, in delivering seamless services to the public.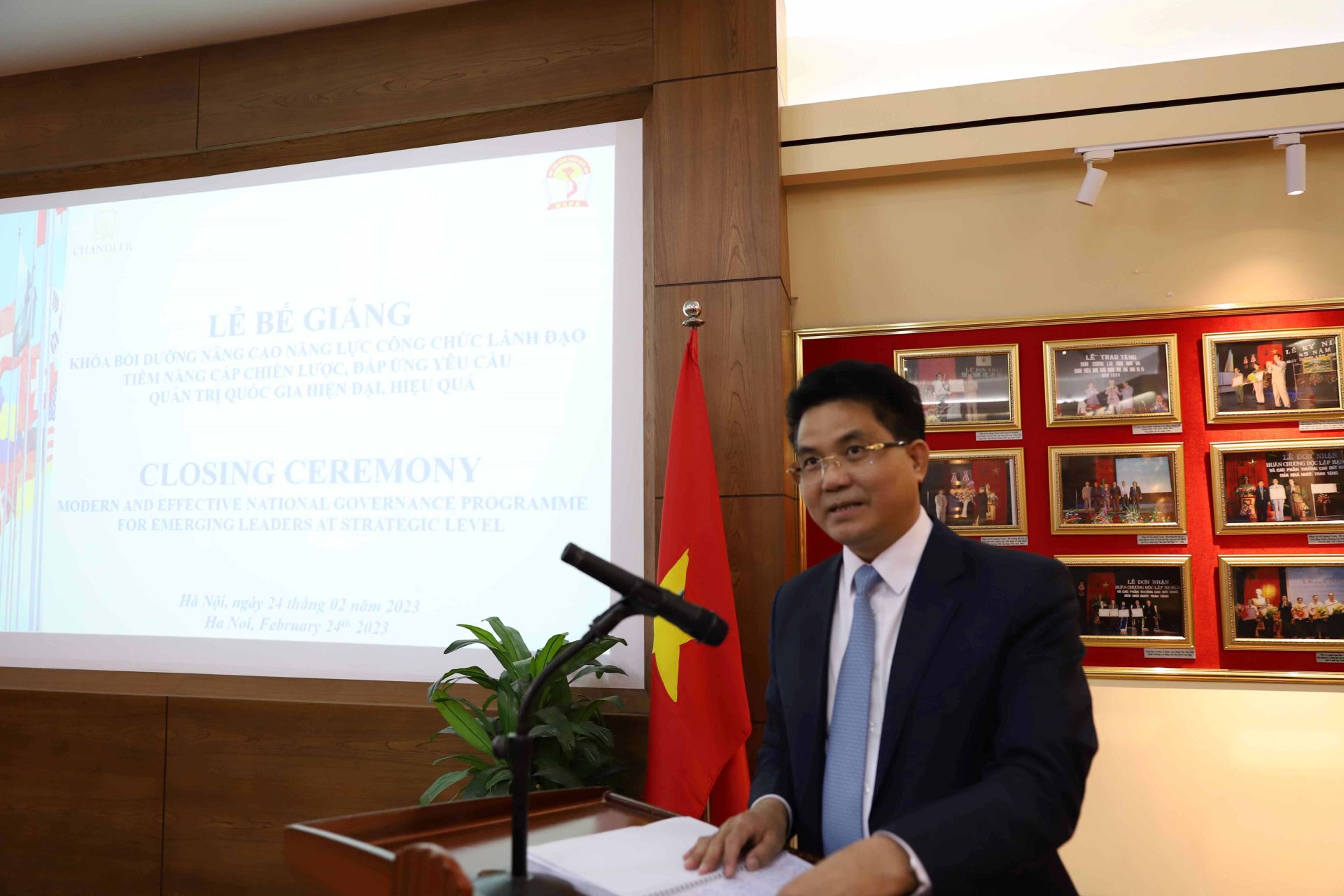 Class representative, Mr Le Quang Hoa speaking on behalf of the class at the closing ceremony
Taking place from 20 – 24 February 2023 in Hanoi, the final segment of MENGPEL focused on developing skills in policy and programme design. Participants were taught different tools to analyse locally relevant policy challenges and to design policy solutions to these challenges.

As part of the learning activities, the participants travelled to Hoa Binh province in Northern Vietnam, where they interacted with local government leaders to understand different facets of real life policy challenges, including the development of cultural tourism in Mai Chau distict within the province. Using the analytical and system thinking tools and frameworks that they learnt in class, the participants worked in groups to develop and present solutions to these policy challenges.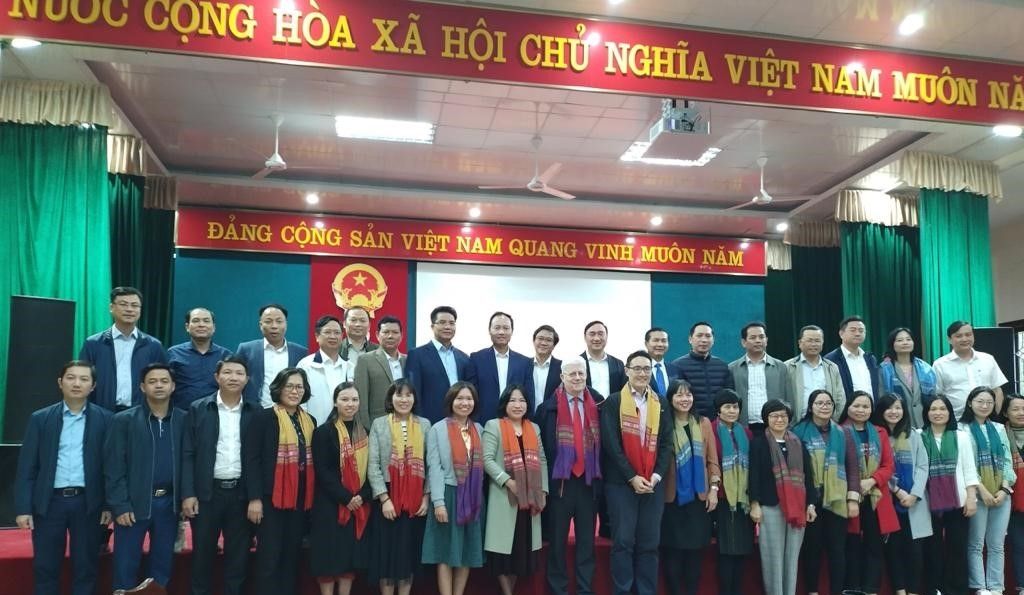 Participants attended a briefing by the People's Committee of Mai Chau District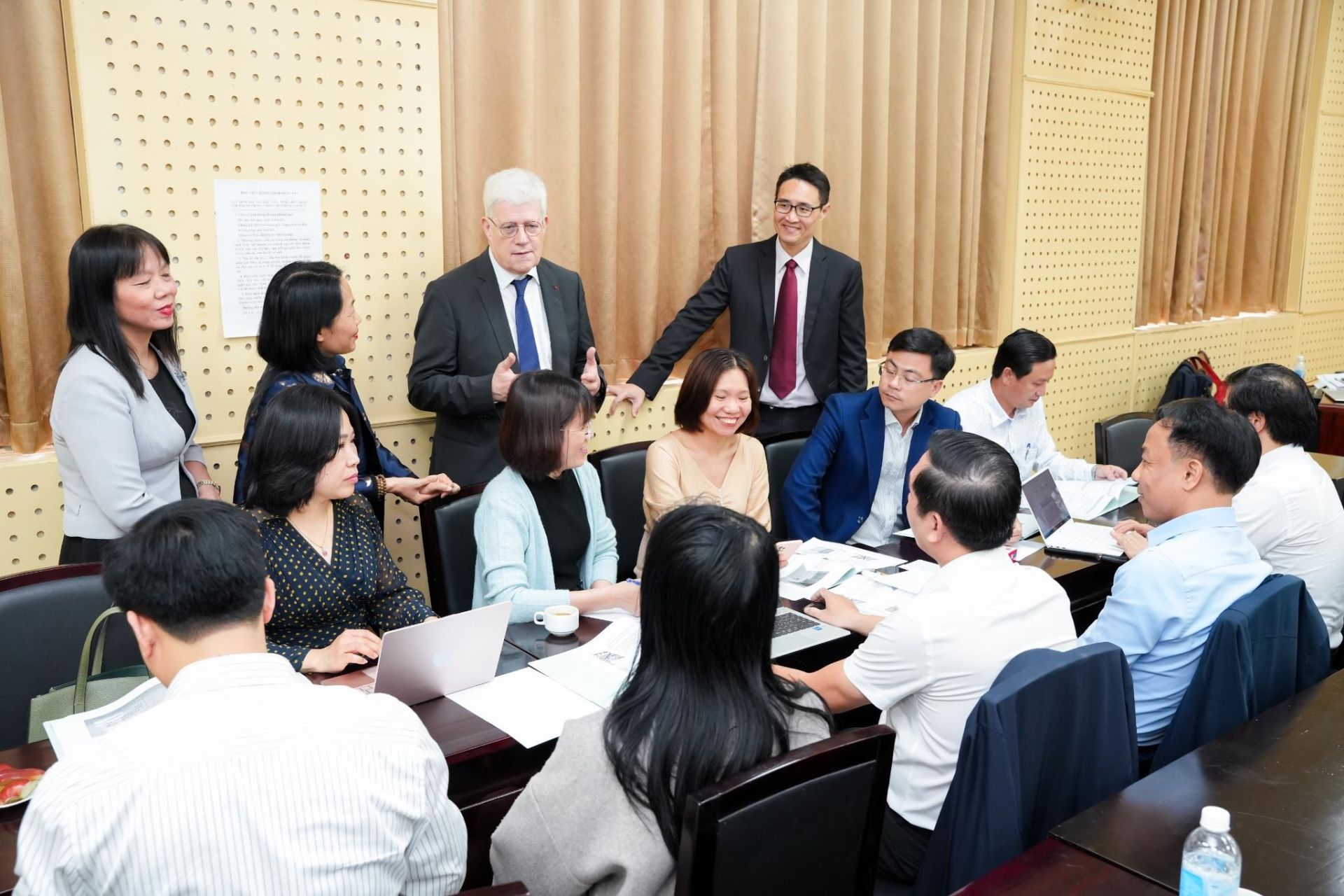 Participants discussing and working on their capstone project
Empty space, drag to resize
About the Chandler Institute of Governance (CIG)
The Chandler Institute of Governance (CIG) is an international non-profit organisation, headquartered in Singapore. We believe in a world where citizens have a deep sense of trust in their governments and public institutions, and where nations are governed by principled, wise leaders supported by an effective civil service. Trust and effective governance serve as a strong foundation for national development and prosperity. CIG supports governments in building government talent, leadership and public service capabilities through training programmes, research initiatives and advisory work. We are not affiliated with any national government or political party, and we do not represent any partisan or commercial interests.
For more news and information, visit
https://www.chandlerinstitute.org/
or follow CIG on
Facebook
,
Twitter
and
LinkedIn
@ChandlerINST
About the Chandler Academy of Governance (CAG)
The Chandler Academy of Governance (CAG) is the training arm of CIG. CAG complements and supports CIG's work by designing and delivering training programmes that are practitioner-oriented, to equip government leaders with capabilities required to meet the realities and demands of public service work. CAG works with its panel of adjunct trainers and subject matter experts in the design and delivery of these programmes.
Empty space, drag to resize
For media clarifications, please contact:
Dominic GABRIEL (Mr)
Communications Manager
Chandler Institute of Governance

ONG Wee Teng (Ms)
Manager, Programmes
Chandler Institute of Governance